Your career with BusinessCode
BusinessCode offers individual IT solutions on the basis of a grown, self-developed software library. We have more than 20 years of project experience and know the requirements of our customers. Our software library forms the basis of our customer solutions. It is the result of our customer-oriented approach and can be flexibly extended. It is used daily by more than 20,000 users worldwide.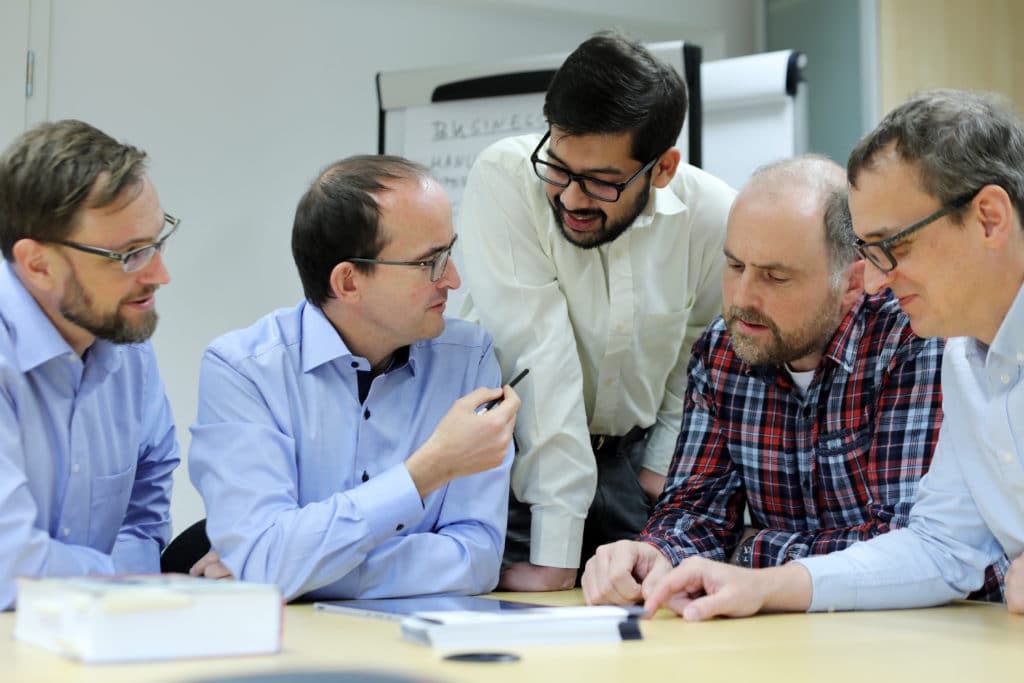 How to apply
Become part of our experienced team! In addition to many years of IT experience and academic backgrounds, our team members are characterized by a high level of linguistic and cultural competence. BusinessCode stands for customer-oriented projects. At BusinessCode, you take responsibility for your projects and, if necessary, can rely on the know-how of others. In this way, our customers benefit from the experience of the entire team without having to change contact persons.
This is your chance!
Graduate in Software Development (Java/ SQL/ XML / HTML) (m/f/d)

BusinessCode GmbH develops tailor-made enterprise application software in projects using the in-house developed open source framework "BCD-UI". BusinessCodeAnalysis offers development, consulting and hosting of database-driven web applications from one source.

To strengthen our team in Bonn we are looking for a new member:

Graduate in Software Development (Java/ SQL/ XML / HTML) (m/f/d)

We help our clients (large international companies, small and medium-sized businesses) with their digital transformation. We replace manual processes with IT driven workflows, implement digital products and modernise existing IT systems.

In agile projects, we develop customized solutions using modern technologies and architectural approaches.

Interested? Then we look forward to receiving your application.

You're bringing:

• Good knowledge of Java, XML, relational databases and SQL

• Knowledge and experience in web technologies (HTML5, CSS3, JavaScript)

• Experience in software development, DevOps and suitable development tools

• Enthusiasm to implement technical requirements in IT solutions in an agile process

• Independent work and joy of experimentation

• Interest in innovation and getting to know new technologies

It gets even better:

• English speakers welcome

• Excellent public transport connections, JobTicket and bicycle parking spaces in our office in Bonn city centre.

Apply here: Martin Schulze (CEO): jobs@business-code.de
Working student in IT consulting (m/f/d)

Job advertisement

BusinessCode GmbH supports customers in developing their IT landscape. BusinessCode offers analysis, development, consulting, hosting, training and maintenance of database-driven web applications as well as IT consulting on a wide range of topics.

To strengthen our team in Bonn we are looking for a new team member now:

Working student in IT consulting (m/f/d)

We're looking for:

A student (m/f/d) to support our team in consulting our customers.

We offer a workplace centrally located in Bonn opposite the university and an exciting environment with local and international clients.

You're bringing:

Independent work and structured thinking
Willingness to understand the processes and technical requirements of customers.
Affinity to technical topics and interest in IT.
Knowledge and experience in working with MS Office.
German and English in spoken and written form.

You should know:

You can arrange your working hours to suit your university studies.
English speakers welcome
We are also happy to supervise Bachelor and Master theses.

Please send us an informal email to jobs@business-code.de.
Working student in software development (Java/JavaScript/SQL/ XML/HTML) (m/f/d)

Job advertisement

BusinessCode GmbH develops tailor-made enterprise application software in projects using the in-house developed open source framework "BCD-UI". BusinessCode offers analysis, development, consulting, hosting, training and maintenance of database-based web applications from one source.

To strengthen our team in Bonn we are looking for a new team member now:

Working student in software development (Java/JavaScript/SQL/XML/HTML) (m/f/d)

We're looking for:

A student (m/f/d) from the mathematical-scientific-technical field to support our team in the further development of our BCD-UI Library.

You're bringing:

Good knowledge of Java, JavaScript, XML, relational databases and SQL
These terms should not be alien to you: JDBC, HTML, JavaScript, Git
Willingness to understand the technical requirements and challenges of product development
Independent work, joy of experimentation and the fun of innovation

You should know:

You can arrange your working hours to suit your university studies.
English speakers welcome
We are also happy to supervise Bachelor and Master theses.

Please send us an informal email to jobs@business-code.de.
Working student in software development (Java/SQL/XML/HTML) (m/f/d)

Job advertisement

BusinessCode GmbH develops tailor-made enterprise application software in projects using the in-house developed open source framework "BCD-UI". BusinessCode offers analysis, development, consulting, hosting, training and maintenance of database-based web applications from one source.

To strengthen our team in Bonn we are looking for a new team member now:

Working student in software development (Java/SQL/XML/HTML) (m/f/d)

We're looking for:

A student (m/f/d) from the mathematical-scientific-technical field to support our team in the development of business software.

You're bringing:

Good knowledge of Java, XML, relational databases and SQL
These terms should not be alien to you: JDBC, HTML, JavaScript, Git
Curiosity to understand technical requirements
Independent work and joy of experimentation

You should know:

You can arrange your working hours to suit your university studies.
English speakers welcome
We are also happy to supervise Bachelor and Master theses.

Please send us an informal email to jobs@business-code.de.