Digitization in small and medium-sized businesses
Digitization is becoming a must, constant changes in the markets require a high degree of flexibility. To be able to do this, tailor-made IT is required that covers the respective requirements. This is where software from the stage often reaches its limits.
Individual solutions beat standard tools!
But especially in small and medium-sized businesses the tendency in the first step often goes to standard tools, cost reasons and fast availability are the main arguments here. This does not have to be the case. In many cases, individual solutions based on standard modules are the better and cheaper alternative. Tailor-made from the very beginning means that everything is as it should be and does not have to be laboriously adapted.
Digitization – meaning the software – must fit the company and its requirements, especially in small and medium-sized businesses. It must implement the respective requirements, map the existing processes and accompany developments in the future.
Excel, nothing else?
Even if Excel – a tool popular among medium-sized companies – is quickly available, easy to use and uncomplicated, it is not always the best solution. We know from experience that there are user-friendly alternatives, especially when it comes to complex, business-critical applications. And such individual solutions do not have to be more expensive. On the contrary. Because they better reflect the respective requirements, you also save time and money when implementing the application.
A suitable solution is better than a customized one!
Especially in small and medium-sized businesses, we rely on a solution based on our tool-kid of the BCD-Cel solution, the user-friendly alternative: firmly calculated, quickly implemented and controlled by proven and pre-tested modules. We work consistently on the basis of independent standard technologies. This makes you independent and you work with an individual business application that brings advantages for IT and management!
Let us advise you:
BusinessCode is your contact for individual solutions and projects for medium-sized businesses. We offer suitable and reliable software projects from development to completion. With us you can rely on proven, state-of-the-art technologies that are in use worldwide.
Our projects in small and medium-sized businesses – Digitization with BusinessCode starts today!
Fits perfectly!
Tailor-made IT solutions from standard components – we have already convinced here!

Digitization in small and medium-sized businesses
User reports, case studies and more on the topic of "Digital transformation in medium-sized businesses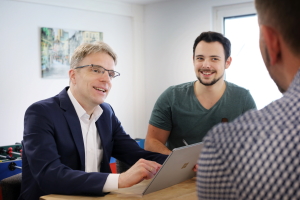 Interview with Martin Schulze
CEO BusinessCode
Let us advise you!
[contact-form-7 id="3689″ title="Contact"]
BusinessCode – IT for future
Am Hof 28
53113 Bonn, Germany
Fon +49 (0)228 33885-0
Fax +49 (0)228 33885-225
kontakt@business-code.de